Quality Kukui Nut Lei Necklaces - Black or Dark Cocoa Brown.
Tired of buying substandard kukui lei products? Want a quality Hawaiian Product made by us? Give us a try!
Why do our premium kukui nut lei necklaces cost a little more?
They are well-crafted; they are not plastic! Every kukui nut is inspected before being strung. All lei are strung by our Kukui Lei Kumu (Lei Master). They are not factory assembled elsewhere!
What should you know about our kukui nut lei necklaces?
The kukui lei necklaces are hand strung on the Big Island of Hawai`i. We use the finest kukui nut materials available in the market.

Each kukui lei nut is screened by hand to ensure only the best kukui nuts are used. We hand inspect every finished lei for any hairline cracks that might make the kukui nut split open.

We do not use flimsy satin ribbons or stretch yarn! We use durable, dependable ribbons for longevity. A hand-tied knot is between each kukui nut to prevent it from rubbing or scratching the adjacent nut.

We make sure the drill hole on the nut does not exceed the kukui lei ribbon hand-tied knot diameter. This prevents the kukui lei nuts from "slipping."

Real Kukui Nuts are not perfect; it is their "imperfection" that makes kukui nut lei so appealing, natural, and beautiful.
Compare before you shop for your next kukui nut leis elsewhere. We hope you will agree with us and select our kukui nut lei products over others.
---
HOW TO ORDER
Premium Traditional Kukui Nut Lei Necklace - BLACK OR DARK COCOA BROWN
Durable and beautiful. Constructed on the Big Island of Hawaii to last for many, many years. For those who want simplicity and style in a kukui nut lei these are the perfect fit. Our exclusive design. Custom hand strung on 3/8" black durable ribbons. Approximately 48" long including adjustable ribbon ties for natural fit. Kukui nut strand is approximately 26 1/2."
#A25BL Premium TRADITIONAL Lava Black Kukui Nut Lei Necklace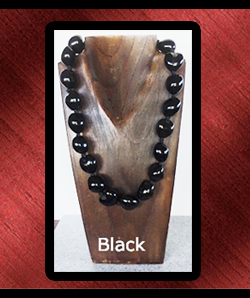 Illustration only. Lei Holder Mannequin Torso Stand not included.
#A25BR Premium TRADITIONAL Dark BROWN Kukui Nut Lei Necklace

Illustration only. Lei Holder Mannequin Torso Stand not included.

3 in stock as of